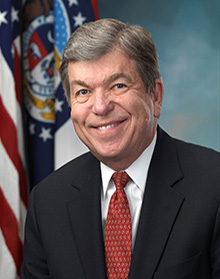 Roy Dean Blunt (born January 10, 1950) is an American politician who is the junior United States Senator from Missouri, serving since 2011. A member of the Republican Party, he previously served as a member of the United States House of Representatives and as Missouri Secretary of State.
Born in Niangua, Missouri, Blunt is a graduate of Southwest Baptist University and Missouri State University. After serving as Missouri Secretary of State from 1985 to 1993, he was elected to the U.S. House of Representatives for Missouri's 7th Congressional District in 1996. There he served as Republican Whip from 2003 to 2009.
Blunt successfully ran for United States Senate in 2010. The following year, he was elected vice-chairman of the Senate Republican Conference. Blunt is the dean of Missouri's Congressional delegation.