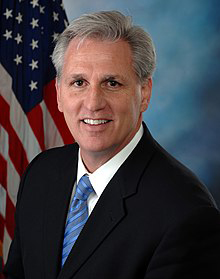 Kevin Owen McCarthy (born January 26, 1965) is an American politician serving as the House Majority Leader since 2014 and U.S. Representative for California's 23rd congressional district since 2013. He previously served as the U.S. Representative for California's 22nd congressional district from 2007 to 2013.
A member of the Republican Party, he was formerly chairman of the California Young Republicans and the Young Republican National Federation. McCarthy worked as district director for U.S. Representative Bill Thomas, and in 2000 was elected as a trustee to the Kern Community College District. He then served in the California State Assembly from 2002 to 2006, the last two years as Minority Leader. When Thomas retired from the U.S. House in 2006, McCarthy ran to succeed him and won the election. The 23rd district, numbered as the 22nd district from 2007 to 2013, is based in Bakersfield and includes large sections of Kern County and Tulare County as well as part of the Quartz Hill neighborhood in northwest Los Angeles County.
McCarthy was elected to House leadership as the Republican Chief Deputy Whip, from 2009 to 2011, and House Majority Whip, from 2011 until August 2014, when he was elected House Majority Leader to replace the outgoing Eric Cantor, who was defeated in his primary election. After announcing his candidacy for Speaker on September 28, 2015, he dropped out of the race on October 8.