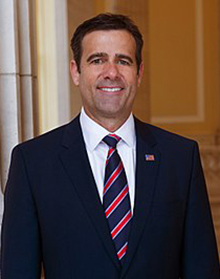 John Lee Ratcliffe (born October 20, 1965) is an American politician who serves as the congressman for Texas' 4th district, which stretches from the outer eastern suburbs of the Dallas-Fort Worth Metroplex to Texarkana, and includes Sherman, Bonham, Denison and Rockwall.
In the runoff primary election on May 27, 2014, Ratcliffe defeated 17-term incumbent Ralph Hall, who was the oldest member and one of the last World War II veterans in Congress at the time, Ratcliffe was unopposed in the general election on November 4 and was sworn in as a member of the 114th Congress on January 6, 2015. He was re-elected to a second term 2016 with 88% of the vote, defeating Cody Wommack.
In Heritage Action's final scorecard for the 114th Congress, Ratcliffe was ranked as the most conservative Texas legislator in Congress and second most conservative legislator in the country.