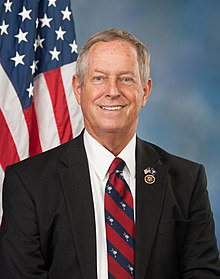 Addison Graves Wilson Sr. (born July 31, 1947) is the U.S. Representative for South Carolina's 2nd congressional district, serving since 2001. The district stretches from the state capital, Columbia, to the Georgia-South Carolina border. From 1985 to 2001, he served in the South Carolina Senate. He is a member of the Republican Party.
He is a member of the House Republican Policy Committee and is an Assistant Republican Whip.
In September 2009, Wilson received international attention when he interrupted a speech by U.S. President Barack Obama to the joint session of Congress by shouting "You lie!". The incident resulted in a reprimand by the House of Representatives.
Wilson was re-elected in 2010 by 9 percentage points over his closest challenger and when he ran unopposed in the 2012 general election he was re-elected with 96% of the vote. Wilson won re-election in 2014 with more than 62% of the vote in a three-way race.