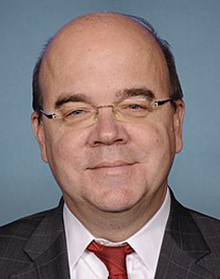 James Patrick McGovern (born November 20, 1959) is a member of the United States House of Representatives, representing Massachusetts's 2nd congressional district. He is a member of the Democratic Party. The district, numbered as the 3rd District from 1997 to 2013, stretches from Worcester to the Pioneer Valley.
Born and raised in Worcester, Massachusetts, McGovern attended Worcester Academy. While in college he worked as a congressional aide to U.S. Senator George McGovern (to whom he has no relation), a two-time presidential candidate for whom he campaigned. From 1981 to 1996 he was a senior staff member for U.S. Representative Joe Moakley. McGovern first ran for Congress in 1994, where he lost in the Democratic primary. He ran again in 1996, defeating Republican incumbent Peter Blute. He has been reelected every two years since then without serious difficulty.
A focus of his career has been international human rights, which he has advocated for in countries such as El Salvador, Sudan, and Colombia. He is a member of the Congressional Progressive Caucus and has been ranked as one of the most liberal members of Congress.