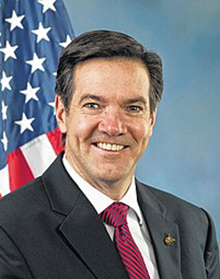 Evan Hollin Jenkins (born September 12, 1960) is an American politician serving as the U.S. Representative for West Virginia's 3rd congressional district since 2015. He is a member of the U.S. House Committee on Appropriations. He is a Republican, having switched his party affiliation from Democrat in 2013.
Jenkins was a member of the West Virginia Senate from the 5th District, which contains Cabell County and a small portion of Wayne County. He served in both chambers of the West Virginia Legislature in Charleston over the course of 20 years, having been elected as a member of the House in 1994, and elected to the Senate in 2002. He gave up his seat to run in the 2014 congressional election, defeating incumbent Democrat Nick Rahall.
Jenkins was a candidate for the U.S. Senate in 2018, losing to West Virginia Attorney General Patrick Morrisey in the primary election. Jenkins is currently a candidate in the election to be held on November 6, 2018 to fill the remaining six years term as a Justice of the Supreme Court of Appeals of West Virginia due to the resignation of Robin Davis.