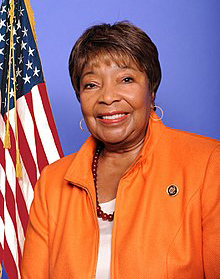 Eddie Bernice Johnson (born December 3, 1935) is a politician from the state of Texas, currently representing Texas's 30th congressional district in the United States House of Representatives. Serving as a representative since 1993, when she was the first registered nurse elected to Congress.
She formerly served in the Texas state house, where she was elected in 1972 in a landslide, the first black woman to win electoral office from Dallas, Texas. She also served for three terms in the Texas senate before being elected to Congress.
Johnson had a career in nursing before entering politics. She served for 16 years as the first African-American Chief Psychiatric Nurse at the Dallas Veterans Administration Hospital.
Providing she is re-elected in 2018, she will become the dean of the Texas legislation following the retirements of Joe Barton, Lamar Smith, Sam Johnson, and Gene Green.