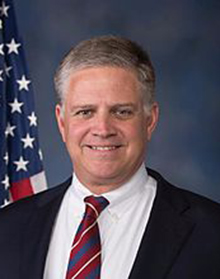 Anderson "Drew" Ferguson IV (born November 15, 1966) is an American dentist and politician who is the U.S. Representative for Georgia's 3rd congressional district. The district stretches from the southern suburbs of Atlanta to the northern suburbs of Columbus.
A Republican, he previously served as the mayor of West Point, Georgia, a city located between LaGrange and Columbus.
Ferguson was born in Langdale, Alabama in 1966 and graduated from the University of Georgia, and the Medical College of Georgia. He served as an alderman for West Point, and then as mayor of West Point from 2008 through 2016, when he resigned to focus on his race for the House of Representatives.