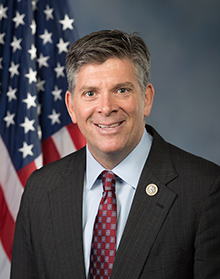 Darin McKay LaHood /ləˈhʊd/ (born July 5, 1968) is a Republican politician from Peoria, Illinois, who is the United States Representative for Illinois's 18th congressional district. Prior to being elected to Congress, he was a member of the Illinois Senate representing the seven-county 37th legislative district.
LaHood is the son of Ray LaHood, the former United States Secretary of Transportation and before then the seven term congressman from the district his son currently represents. He has called himself a fiscal conservative focused on budget issues.
While Ray was a moderate Republican, Darin is considered more conservative.