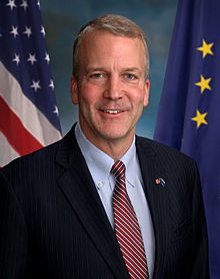 Daniel Scott Sullivan (born November 13, 1964) is an American politician, lawyer and member of the Republican Party serving as the junior United States Senator from Alaska since 2015.
Born in Fairview Park, Ohio, Sullivan earned degrees from Harvard University and Georgetown University, interning at the United States Court of Appeals for the District of Columbia Circuit. After graduating in 1993, he joined the United States Marine Corps, leaving active duty in 1997. He has since served in the United States Marine Corps Reserve and was recalled to active duty from 2004 to 2006 and in 2009 and 2013.
Between 1997 and 1999, he clerked for judges on the United States Court of Appeals for the Ninth Circuit and the Alaska Supreme Court. He worked in private practice in Anchorage, Alaska from 2000 to 2002, then moved to Maryland to work for the federal government, first with the National Economic Council and National Security Council, then as Assistant Secretary of State for Economic and Business Affairs.
Sullivan then returned to Alaska, serving first as Alaska Attorney General from 2009 to 2010, then as Commissioner of the Alaska Department of Natural Resources from 2010 to 2013. He resigned from office in September of that year to run for the United States Senate seat held by Democrat Mark Begich in the 2014 election. In August 2014, Sullivan won the Republican primary, defeating Alaska Lieutenant Governor Mead Treadwell and 2010 Senate nominee Joe Miller. After a close race, he defeated Begich in the general election by 47.96% to 45.83%, a margin of 6,014 votes out of 282,400 cast.