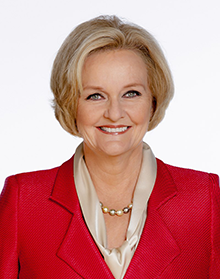 Claire Conner McCaskill (/məˈkæskəl/; born July 24, 1953) is an American politician who serves as the senior United States Senator from Missouri, a seat she was first elected to in 2006. She is the second female U.S. Senator from Missouri after Jean Carnahan who served from her appointment in 2001 until 2002, and the first female US Senator from Missouri to be elected in her own right.
A Democrat, McCaskill defeated Republican incumbent Jim Talent in the 2006 election, by a margin of 49.6% to 47.3%. She became the state's senior U.S. Senator upon the retirement of Kit Bond in 2011 and won a bid for reelection in 2012, defeating Republican Todd Akin by a margin of 54.7% to 39.2%.
Before her election to the U.S. Senate, McCaskill served as the 34th State Auditor of Missouri from 1999 to 2007. She previously served as Jackson County Prosecutor from 1993 to 1998 and as a member of the Missouri House of Representatives from 1983 to 1989. She ran for Governor of Missouri in the 2004 election, beating Democratic incumbent Bob Holden in the primary election but losing to Republican Matt Blunt in a close general election. A native of Rolla, she graduated from the University of Missouri and the University of Missouri School of Law.
In the 115th Congress, McCaskill serves as ranking member of the Committee on Homeland Security and Governmental Affairs. In the 114th Congress, McCaskill served as a senior member of the Committee on Armed Services, Committee on Commerce, Science and Transportation, and ranking member of the Special Committee on Aging and the United States Senate Homeland Security Permanent Subcommittee on Investigations. Before the Democrats lost control of the U.S. Senate in the 2014 general election, she was the chair of the Homeland Security Subcommittee on Contracting Oversight and subsequently served as that subcommittee's ranking member.