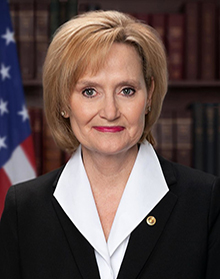 Cindy Hyde-Smith (born May 10, 1959) is an American cattle rancher and politician who is the junior United States Senator from Mississippi, in office since April 2018. A member of the Republican Party, she was previously the Mississippi Commissioner of Agriculture and Commerce and a member of the Mississippi State Senate.
Born in Brookhaven, Mississippi, Hyde-Smith is a graduate of Copiah-Lincoln Community College and the University of Southern Mississippi. In 1999, she was elected a member of the Mississippi State Senate, representing the 39th district. She served three terms in the state senate and chaired the agriculture committee. In 2010, she switched parties from Democrat to Republican, citing her conservative beliefs.
Hyde-Smith was elected Mississippi Agriculture Commissioner in 2011, the first woman elected to the office. On March 21, 2018, Governor Phil Bryant announced his intention to appoint her to the United States Senate seat being vacated by Thad Cochran. Hyde-Smith was sworn into office on April 9, 2018, the first woman to represent Mississippi in Congress.
Hyde-Smith is a candidate in the 2018 special election for the remainder of Cochran's term, which expires in 2021.