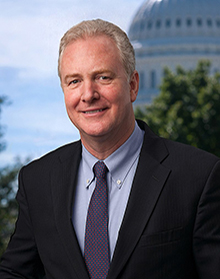 Christopher Van Hollen Jr. (born January 10, 1959) is an American politician serving as the junior United States Senator from Maryland since January 3, 2017. From 2003 to 2017, he held the position of U.S. Representative for Maryland's 8th congressional district. He is a member of the Democratic Party.
In 2006, Van Hollen became the chair of the Democratic Congressional Campaign Committee (DCCC). In this post, he was responsible for leading efforts to defend vulnerable Democrats and get more Democrats elected to Congress in 2008, which he did. House Speaker Nancy Pelosi created a new leadership post, Assistant to the Speaker, in 2006 so that Van Hollen could be present at all leadership meetings. He was elected Ranking Member on the Budget Committee on November 17, 2010. Pelosi appointed Van Hollen to the 12-member bipartisan Committee on Deficit Reduction with a mandate for finding major budget reductions by late 2011. On October 17, 2013 Pelosi appointed Van Hollen to serve on the bicameral conference committee.
Van Hollen ran for the United States Senate in 2016 to replace retiring Senator Barbara Mikulski and won the general election 60 to 36 percent. Van Hollen serves as Chair of the Democratic Senatorial Campaign Committee (DSCC) for the 2018 elections cycle.