Last week, we all watched in horror as thousands of people believing the lie that the 2020 election was stolen from Trump, stormed the Capitol building in Washington D.C. during a joint session of congress to certify the electoral votes of said election. It was horrifying to watch the attempted coup, and the fallout has been immense and is still happening, even now. The Friday following the riot, President Trump tweeted the following two tweets.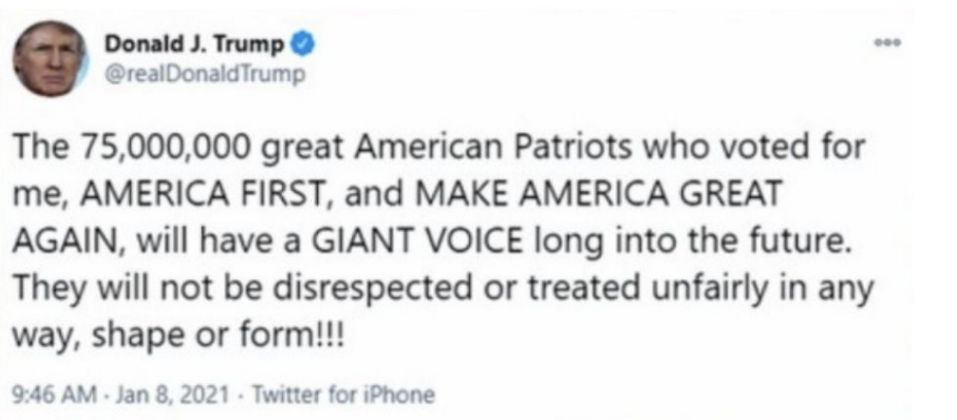 After the second tweet, President Donald J. Trump was been banned from Twitter. This follows being banned from Facebook, Instagram and other social media websites. The implications of this move by these companies are varied. For one, it puts forth the idea that they always could have banned him, and those parroting the rhetoric inciting violence and misinformation. That implication does not reflect well on the social media moguls who were so slow to act. Another major implication is that a sitting President of one of the most powerful nations in the world has been deplatformed. That is entirely uncommon and even jarring. But nothing about Trump on social media has been common from day one. As mentioned in an article on The Guardian, he tweeted like a normal person, not like a President. He used the platform to speak his mind, published tweets with mis-spelled words and even nonsensical words, covfefe, anyone? He tweeted at odd hours, often sounding like he was yelling into the void, as most of us do on Twitter. The big difference is that he did this from a position of extreme power and influence. During his Presidency, he even used Twitter to make policy, and fire officials, some of whom found out they were fired from that Tweet. A shocking and irresponsible way to govern in 4 years of shock and irresponsibility. In the end, it took the incitement of violence, insurrection, and sedition against a basic function of democracy for social media sites to finally ban him from their pages. Twitter and Facebook both cited a violation of terms of service as reasons for his ban, and even referred to the context of the posts, and that they may be interpreted in ways that could cause more violence. These are, of course, very good reasons to remove someone from your site, but last week is hardly the first time Trump's tweets have fit those guidelines. One could possibly argue that many of his tweets over the last four years (likely longer, but we'll focus on the years as President) have incited violence all over the country. From the implicit support of racists in Charlottesville in 2017, to his tweets to "FREE MICHIGAN" and other states when they put mask requirements and stay at home orders in place, supporting those protesting such order in flagrant disregard for public safety. President Trump has been inciting his followers to violence through social media, public statements, and rallies for years now. While these bans are, ultimately, too little too late, they still need to be there. There may be other platforms willing to take him, but since Parler has been taken offline (that is a whole other story), there are not many. While there are other platforms out there, and hints that Trump may try to create his own platform, nothing will have the kind of reach he found on Twitter.
Resources:
You must log in to post a comment.