Learn how you can get paid for your contributions to Social Politician!
Get paid for your content in five easy steps!
1. Install Meta Mask
Head over to metamask.io and start exploring blockchain applications in seconds. Trusted by over 30 million users worldwide, you can get going with a free wallet in less then a minute
3. Import Token SGT
See our Import Guide for more information
4. Add your Content
Post blogs or add comments to the discussions on different politicians. Start new conversations or contribute to ongoing threads. 
5. Get Paid!
When you reach the threshold - you will be rewarded with tokens you can exchange for $USD!
Open Metamask wallet

Select import token button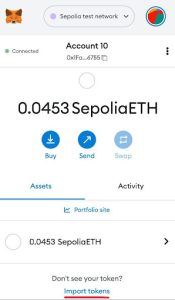 3. Right now Sequoia Green Token support 4 different networks, which you could utilize, just use smart contact address, to input it in and press add custom token: